Introduction to R+T Asia trade show
Selling your products in Asia is not easy. It requires regular direct engagement with buyers, differentiating your products from competitor products, providing after-sales support, and gaining the trust of customers. Participation in an international fair is an investment for any company, but it's critically important to choose a trade fair that attracts the key players in your market.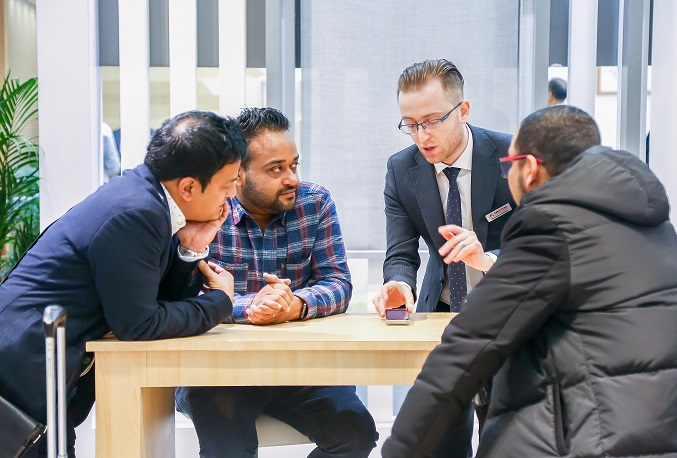 R+T Asia's product categories are strategically chosen and well represented. Our co-shows attract professionals from adjacent industries. The show's exhibits and summits cover the latest products, topics, and trends. We provide matchmaking initiatives and guided delegations to help you build profitable business relationships.
Our multi-channel marketing initiatives promote the trade fair globally, providing you with qualified visitors from all over the world (103 countries in 2019).
To support our exhibitors even before the show, we offer matchmaking initiatives, digital product and brand exposure to R+T Asia's network, tailor-made digital and onsite promotions.
R+T Asia's professional visitors
R+T Asia offers a unique opportunity to network with highly relevant industry professionals from the Asia-Pacific region and outside Asia. These professionals include distributors/wholesalers, retailers, import and export traders, manufacturers of finished products and semi-finished products, architects, interior designers, investors, and other professionals.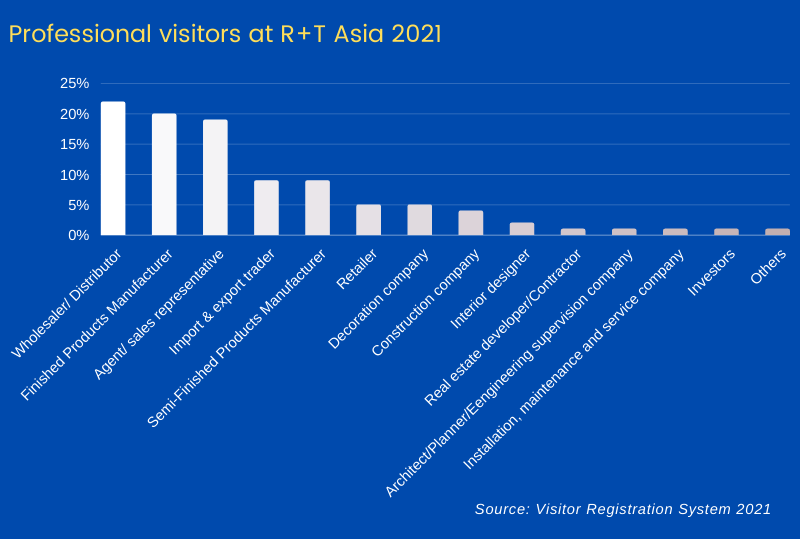 In 2021, due to the international travel restrictions caused by the pandemic, for the first time almost all of exhibitors on-site came from China. Despite of this, the total number of on-site visitors in 2021 was higher than ever, reaching the number of 42,018, underlying the boomong domestic demand for sun shading systems and doors/gates, and creating greater opportunities in the Chinese market.

If you are interested to learn the overview of the last edition of R+T Asia, go here.
Our trade fair cooperates with all related industry media in China and other media from the ASEAN region, Middle East, South East Asia, South Korea, Japan, Taiwan, Hong Kong, and Oceania. We promote our show extensively by organizing special group delegations dedicated for targeted professionals.
Onsite significant programs and concurrent shows

Over 20 conferences and summits take place yearly during R+T Asia, presenting various educational topics and attracting audiences from several categories of professionals, who focus on trends, design integtation and developments in the smart home industry, residential - office - commercial real estate industry, hospitality, warehousing, and more.
The concurrent events as HD+ Asia Home Decoration gathers professionals from the Chinese Home Decoration Market under the three product categories of home soft decoration, outdoor furniture, and future living (whole-home smart systems).
In 2022, R+T Asia will be again in a very good company of other shows as DOMOTEX Asia/CHINAFLOOR 2021, cadex, BIC 2021, IPD 2021 Asia, and WORKSPACE 2021 — all of them will bring on-site well-known Chinese real estate developers, contractors, interior designers, architects. All shows that will take place from May 25 to May 27, 2022 in the NECC (Shanghai) venue are related to the building and construction materials industry, including smart home and smart building systems, hard and soft decoration, and trends in architecture, and offer a cross-border experience for all visitors who will attend in May 2022.
Export opportunities empowered by online solutions
The online matchmaking sessions organized before and during the show provide great networking and sales opportunities, and attract great attention from global buyers who have a chance to connect digitally with on-site exhibitors to meet each other and learn more about common interests. Selected exhibitors will have a chance to connect with the qualified buyers yet before, during and after the show in 2022.
Virtual Booth Tours are webcasts streamed on Live Twitter recorded directly at the exhibitors' booths. Exhibitors present their booths as they usually do in one-on-one meetings, and online visitors learn more about their new products. During R+T Asia 2021, selected exhibitors attended #VirtualBoothTour, involving over 1.2 million total views online. The most attractive presentations created unprecedented business opportunities for exhibitors reaching hundreds of thousands of visitors simultaneously. Anyone who missed the live stream can still view the recorded videos by going to #Twitter
R+T Asia Connect offers an interactive online brand and product showcase, allowing exhibitors to highlight their presence digitally and increasing exhibiting success without the limitations of time and travel.also online. Exhibitors who decided to present their products digitally have an advantage in reaching global professionals in sun shading and door/gate industries without borders and without travel concerns.
For more information regarding promotion, contact us directly here.
How we can support you? Learn more about services