Matchmaking Day
Source:

ATTENTION: PROGRAM EXPIRED!
If you want to get in tour with these or other suppliers please apply for Matchmaking program for professional Buyers here

Weclome to #MatchmakingDay program!
Join one of our Online Matchmaking Sessions and meet trusted suppliers even before the show!
R+T Asia connects you with people who can help grow your business: The #MatchmakingDay is a great opportunity for B2B overseas buyers to meet pre-selected suppliers even before the show, without any of the hassles of travel.
The access is free and guarantees meetings with verified suppliers, belonging to the R + T Asia's community.

How does it work:


See the suppliers we promote and choose those ones who match to your product request.

Register as a buyer by completing the following application form.

Provide accurate personal and company information, and write specific products you are looking for.

Before your application is officially accepted, we will contact you to confirm provided information.


We will communicate with selected suppliers to confirm the meetings and provide you in advance with sales brochures.

Be available for the online meeting(s)! We use Zoom for our video calls, you don't need any account. We will send you the link to the virtual room with instructions on how to use it. All you need is a computer with a microphone, camera and internet access.

Each meeting lasts only 15 - 20 minutes. If you wish to continue the conversation with any exhibitor, you can exchange contact information and follow up the communication whenever you wish.
This service is free. As an organizer, we do not charge buyers for meetings, nor do we charge any fees for any purchase contracts with attending suppliers.


Who can apply:
You are eligible to enter as a buyer if you are:
a senior-level decision-maker with international purchasing responsibility, and

a finished- or semi-finished products manufacturer, import/export trader, distributor/wholesaler, and

a buyer who purchases for drive and control systems and/or window covering accessories and fittings.
Click here to apply for #MatchmakingDay!


Available suppliers:
Worldwide Home Decor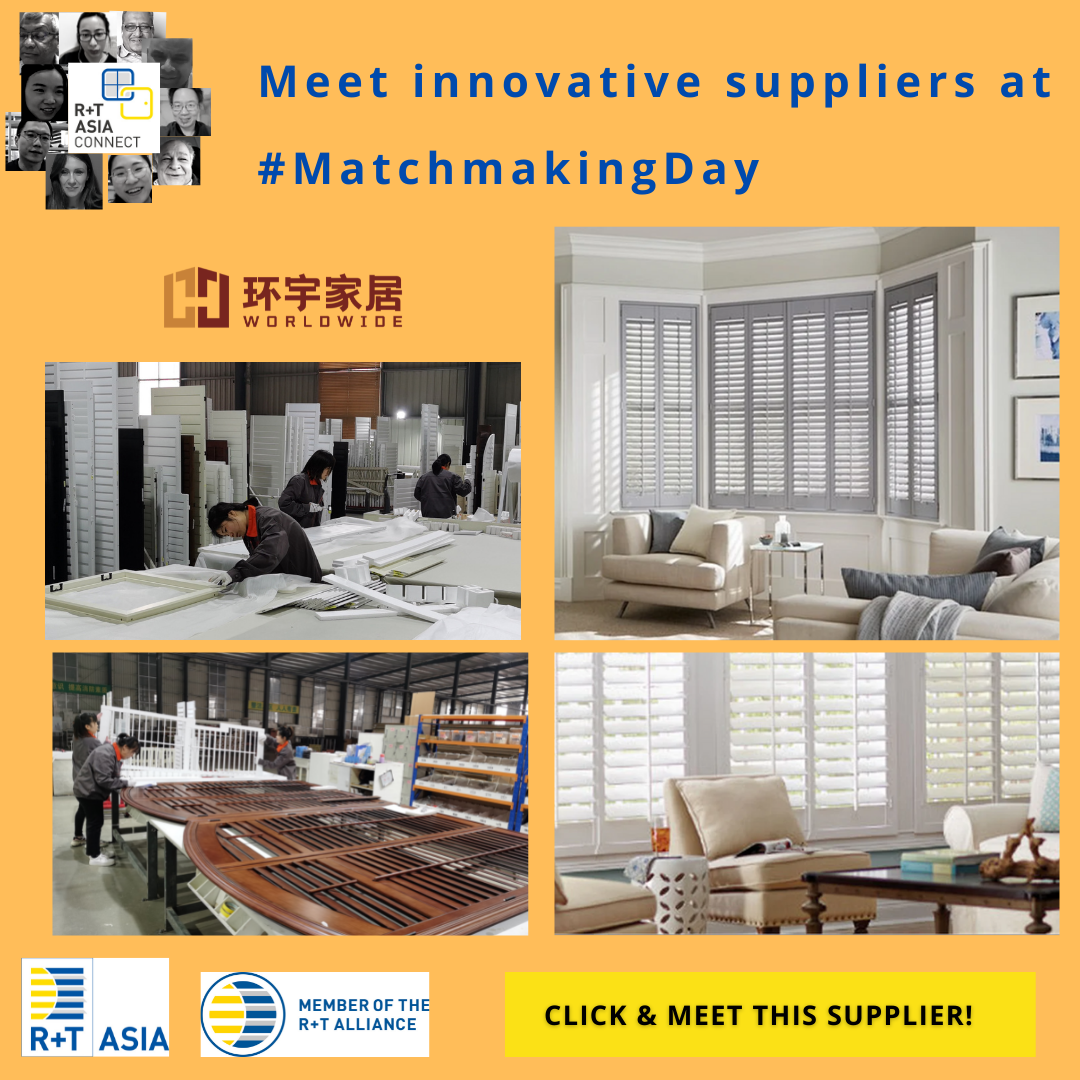 Worldwide Home Decor is an expert in production of plantation shutters / window and door shutters, mainly composed by Paulownia, Basswood, PVC, Aluminum, Ash wood, poplar, and supplier of components for shutters in paulownia, poplar and PVC.
The monthly production capacity of wood and PVC components is about 1,000 cubic meters each, and the production capacity of finished plantation shutters is about 15,000-20,000 square meters per month. At present, most of the products are exported to developed countries and regions such as Germany, the United States, the Netherlands, the United Kingdom, France, and Australia. In order to improve the quality and competitiveness objectives of the company in the international market, the company uses the customer satisfaction rate as a standard to measure work performance. The company accurately captures the developing trend of the international market and continues to introduce products that meet the needs of its customers with first-class quality and first-class service.
#PaluowniaShutters #BasswoodShutters #PVSshutters #AliminumShutters #ShuttersComponents
Ningbo SunFree Motor Technology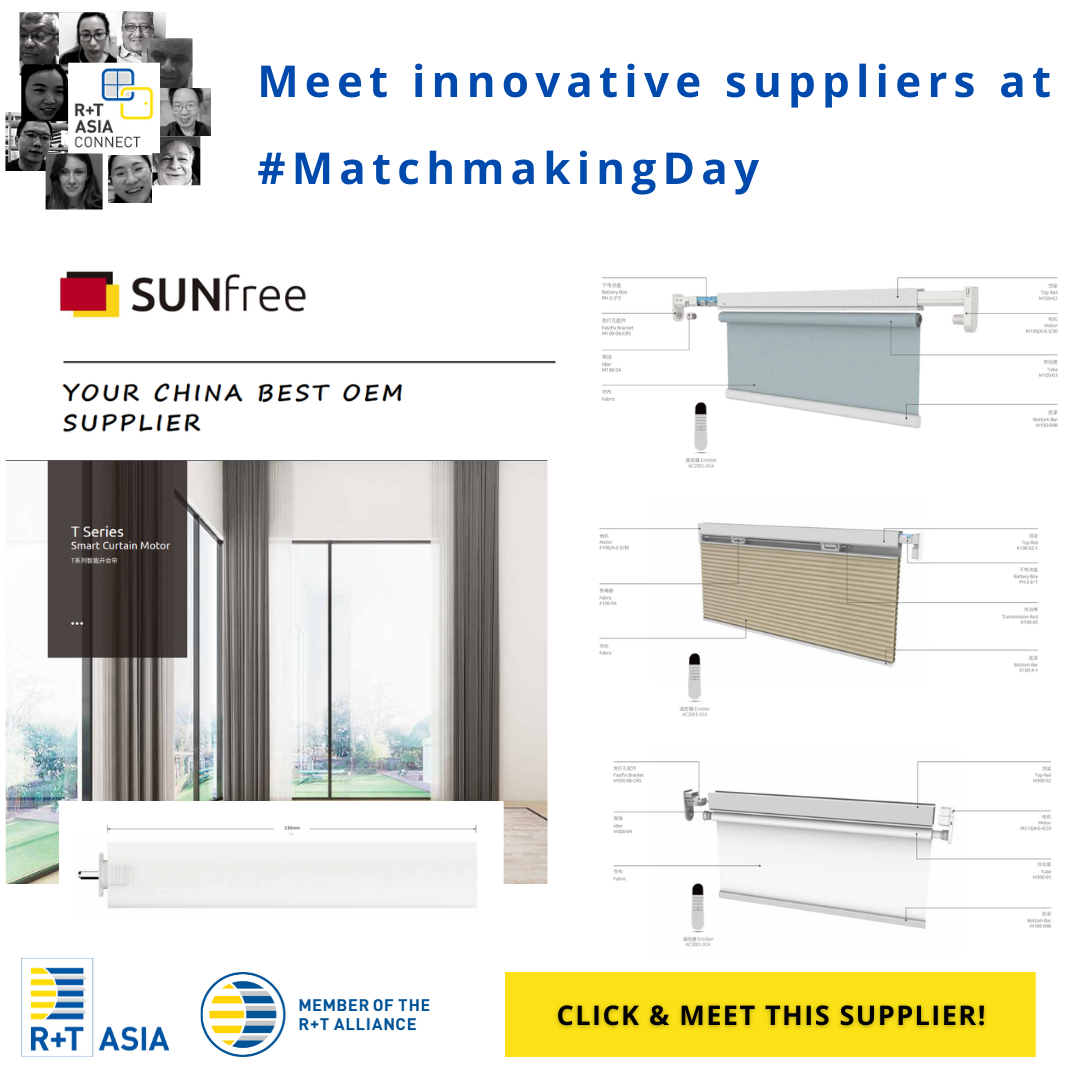 Ningbo SunFree Motor Technology is an innovative enterprise that focuses on the overall Smart Blinds solution and has over 100 product patents around the world. The company focuses on the research, development and production of intelligent indoor blinds and shading systems, such as smart drive & control systems for blinds, roller blinds, zebra blinds, Shangri La blinds, honeycomb blinds, pleated blinds and other indoor sun protection products. The company works closely with its partners to provide users around the world with quieter, smarter and more user-friendly products. The company has fully implemented the IS9001 quality management system in the whole daily operating process to ensure the long-term stability of innovation and product quality with systematic and standardized systems.
In addition, the company offers manually-operated window blinds (ready-made sets) developed for the European and US market such as roller blinds, pleated blinds, zebra blinds, honeycomb blinds, Venetian blinds, skylight blinds, cordless blinds and outdoor shades.
#ElectricBlinds #MotorizedBlinds #SmartBlinds #BlindsMotor #ControlSystems #DriveSystems #CordlessBlinds
HanDe Manufacturing (China) #Sunesse
HanDe Manufacturing (China) has been specializing in manufacturing sunscreen fabrics since 2005. The company believes that stable quality comes from stable environmental control. Therefore, the company has fully adopted the air conditioning system on the production plant. HanDe prides itself on producing high quality, beautiful, stable and environmentally friendly products for its customers all over the world. The fabrics meet the most stringent standards, obtaining eg. GREENGUARD GOLD and European Oeko-Tex Standard 100 certification. The company has been setting the highest management standards for years, adopting the SGS ISO 9001, SGS ISO 14001 and SGS OHSAS 18001 management systems.
#UltraFineSunscreen #ZebraBlindsFabrics #RollerBlindsFabrics #FiberglassFabrics #JacquardFabrics #BlackoutFabrisc #ExernalBlindsFabrics
Shaoxing Red Grape textile Decoration #RedGrape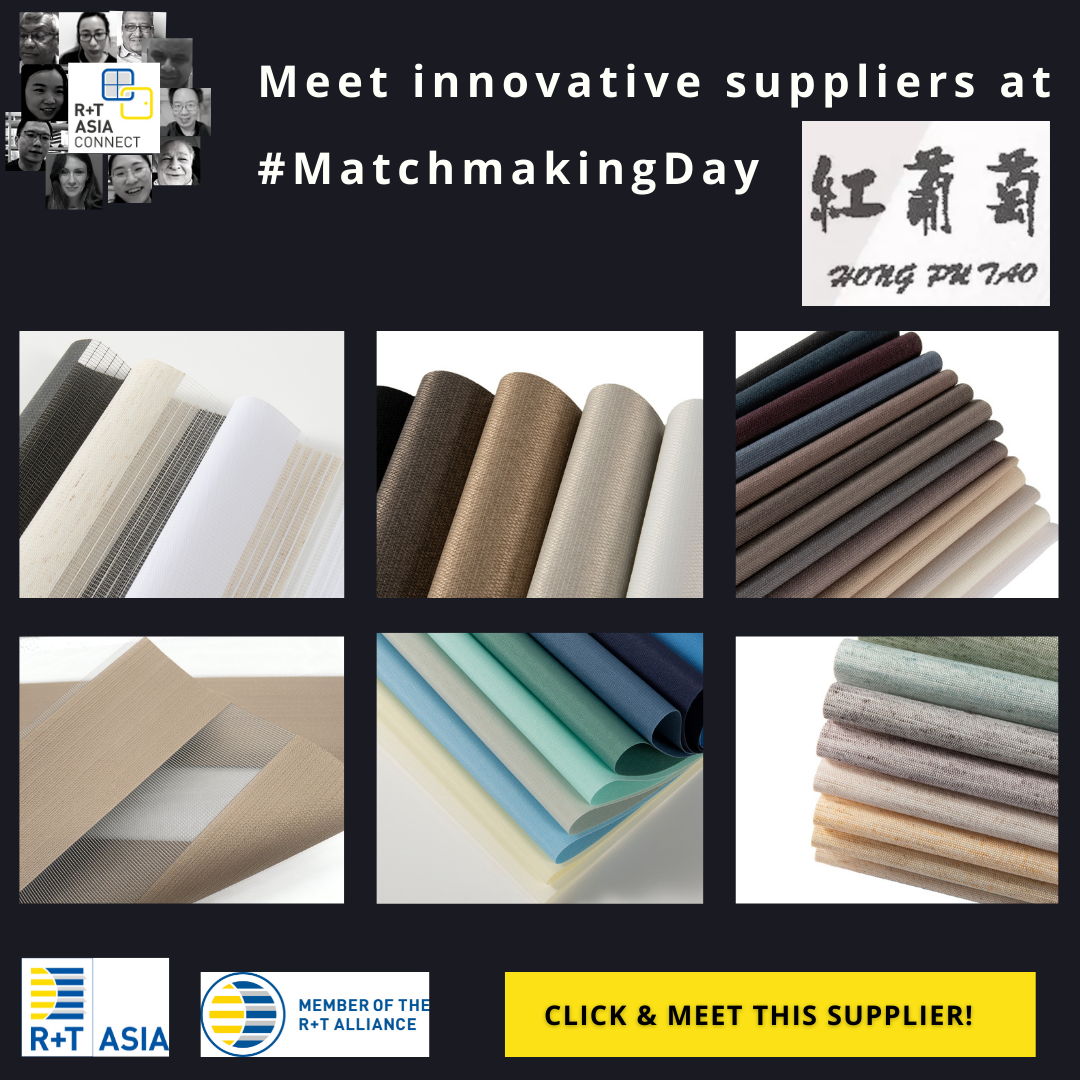 Shaoxing Red Grape Textile Decoration is a well-known manufacturing and exporting company from Shaoxing, China. Red Grape focuses on the design and manufacture of window fabrics, such as roller blinds fabrics, zebra blinds fabrics, vertical blinds fabrics, blackout fabrics for blinds, jacquard fabrics for blinds and more. Integrated textile manufacturing includes pattern design, waving, dying, coating, cutting, but also assembling finished products.
The company produces over 32,000 m of fabric and around 10,000 sets of ready-made roller blinds per day. With a focus on the constant development of employee skills and advanced equipment integrated into production, the company ensures increasing productivity, which grows every year.
#ZebraBlinds #ZebraBlindsFabrics #VerticalBlindsFabrics #SunscreenFabrics #SunscreenBlinds #RollerBlinds #RollerBlindsFabrics

Zhejiang D E Sun-shading Technology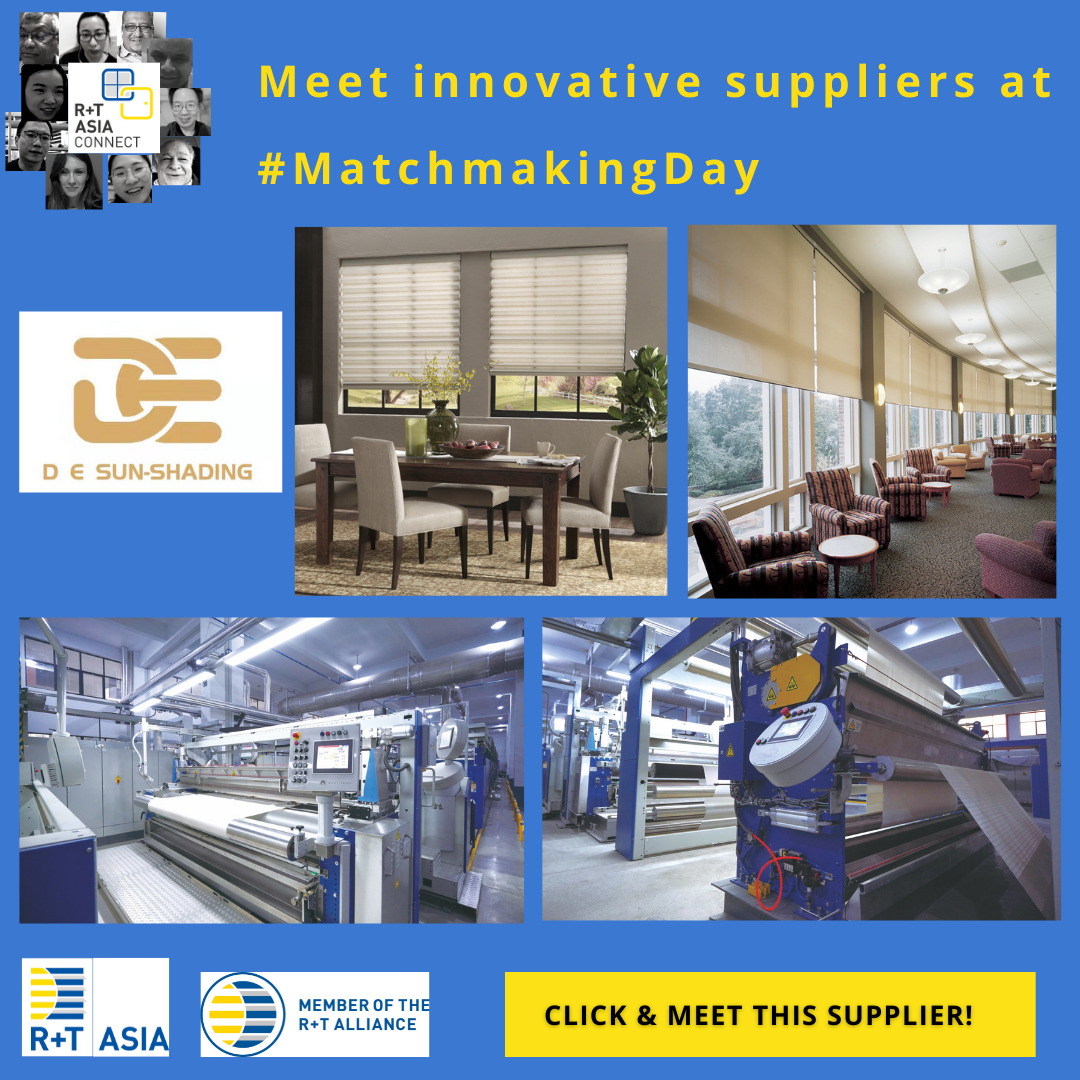 Zhejiang D E Sun-shading Technology Co. Ltd. is a high-tech blind manufacturing enterprise dedicated to manufacturing and developing advanced fabrics for roller blinds, Roman blinds and soft curtains. The company has fully integrated ISO9001 quality management and 6S business management systems, also the products have passed various kinds of international certifications, such as Oeko-Tex 100 standard, GRS, Bluesign, etc. Haining DE Sun-Shading pays special attention to achieving technological innovation and product development. The company has invested over RMB 10 million to create an innovation center for advanced materials and technologies, spread over more than 1,000m2 of space. The fabrics are determined by thermal insulation, sound absorption, are fireproof, antibacterial and anti-mold. The company is located in the Yanguan Industrial Park in Haining, a world famous tide-watching location and the leather capital of China, where it has been supplying domestic and international markets for over 10 years.
#RollerBlindsFabrics #RomanBlindsFabrics #WindowCurtainsFabrics
Are you looking for different products? Learn more about our Hosted Buyer program on Demand