IWDS
Source:R+T Asia
Synergy of Conferences at R+T Asia Trade Show: IWDS and
Low-Carbon Interior Decoration Innovation Conference
The upcoming R+T Asia will feature two prominent conferences, the International Window and Door Summit (IWDS) and the Low-Carbon Interior Decoration Innovation Conference. These conferences, with their complementary focuses, create a synergistic environment that offers attendees a comprehensive view of sustainable building practices and environmentally conscious interior design.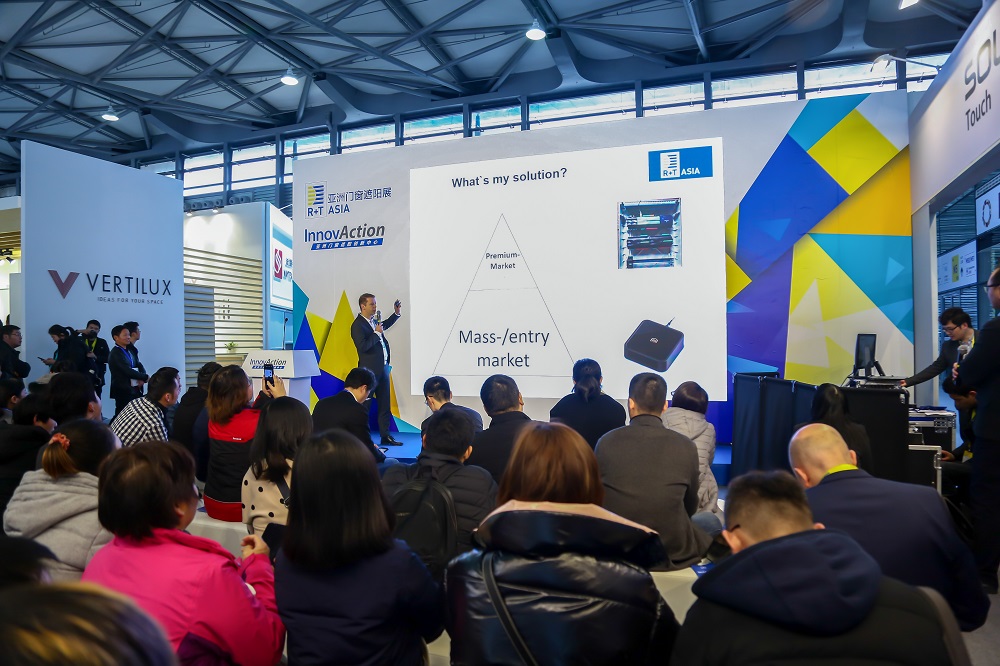 At the IWDS, industry experts, innovators, and leaders will gather in Shanghai to address the carbon footprint of solar shading products and explore the game-changing potential of dynamic solar shading in the building industry. Attendees will gain insights into cutting-edge solutions that have the power to revolutionize sustainability, enhance energy efficiency, and bolster resilience in buildings. The conference will delve into the latest advancements in solar shading technologies in Europe and showcase practical applications that promote environmentally friendly practices in the construction and architectural sectors.
The Low-Carbon Interior Decoration Innovation Conference will provide a platform for professionals to exchange knowledge and discuss the latest developments in low-carbon building spaces, interior decoration trends, and energy-saving projects. This conference aims to inspire attendees to create sustainable and environmentally conscious interior spaces. Participants will gain valuable insights into innovative materials, design strategies, and energy-efficient solutions that can be implemented in their projects. By exploring the intersection of low-carbon practices and interior design, this conference offers a holistic perspective on creating sustainable environments.
The synergy between IWDS and the Low-Carbon Interior Decoration Innovation Conference at the R+T Asia creates a unique opportunity for attendees to explore the complete lifecycle of sustainable building practices. From solar shading solutions to interior design strategies that prioritize energy efficiency, attendees will gain a comprehensive understanding of how to create sustainable and environmentally conscious spaces.
By attending both conferences, industry professionals can take advantage of a wealth of knowledge and insights that will empower them to make informed decisions in their respective fields. The collective expertise and collaboration fostered by these conferences will contribute to the advancement of sustainable practices in the building and design industries.
Don't miss this unparalleled opportunity to engage with industry leaders, gain valuable insights, and drive positive change in the field of sustainable building practices and interior design. Join us at R+T Asia to be a part of these transformative conferences.
Agenda:
09:30 - 10:00
Guest reception
10:00 -10:30
Opening Speech
10:30 - 11:00
"The best kWh is always the one we do not need" Dynamic solar shading can make this a reality.
Keynote speaker: Anders Hall, President of ES-SO European Solar Shading Organization
11:00 - 11:30
"Sun protection means sustainability plus"
Keynote speaker: Olaf Vögele , CEO, Technical expert, Journalist, Technical consultant at media4technologies
11:30 - 12:00
"Game-changing smart home concept: Eve MotionBlinds"
by Rogier Krabbe, Managing Director at Coulisse
13:20 - 13:40
"Interpretation and Launch of Low-Carbon, Energy-Saving Project"
by Yue Peng, Deputy General Manager at Shanghai Research Institute of Building Sciences Group
13:40 - 15:00
"Sharing the Low-carbon Interior Decoration Trend Under carbon peaking and carbon neutrality goal"
by Li Anyong, Expert at Shanghai Exploration and Design Trade Association New Building Materials Promotion Centre Implementation & Promotion of Ultra-low energy Building Group
15:00 - 15:30
"Integration of Sun Shading and Window Systems"
by Lin Guangli, Senior Chief Engineer at WinGreen Energy-saving Window & Door Co., Ltd
15:30 - 16:00
"The Significance of Sunshades in Low-Carbon Building Spaces"
By Hu Juntong, Chief Technology Officer at Hyp-arch Consultants Green Building
16:00 - 16:30
Roundtable Discussion: "Viewpoint on Sunshade Development"
16:30 - 17:00
Supplier Excellence Awards: "Recognizing Outstanding Achievement in the Sunshade Industry"